Welcome to Heartspace!
Introductory Offer: When you take your first class at Heartspace, your second class is free: 2 Classes for $16. Your second class is good for 30 days after your first class on this pass. Click here to purchase our Introductory Offer.
If you're interested in trying out an unlimited month option, we offer an introductory month unlimited for only $70. No commitment beyond the first month. This offer is available to all new, returning and current students.
Please email Andrew if you have questions about classes, rates, instructors, or our studios. We'd like to help you find a class that is right for you!
---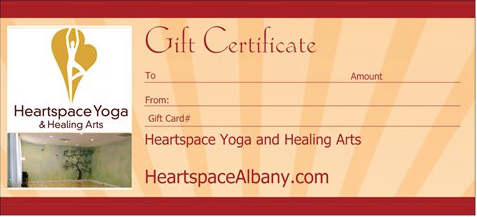 Heartspace Gift Cards can be purchased online and printed, or can be purchased at the studios or call us and we can mail you one right away.
Stay Up to Date with Our Newsletter: New events and workshops are always happening. Here's our latest newsletter in case you missed it.
Special Events and Workshops Coming Up at Heartspace In addition to our regular scheduled weekly drop-in and community classes, we offer a number of special workshops, series and classes designed to help deepen your practice, knowledge and experience of yoga and your body and mind connection.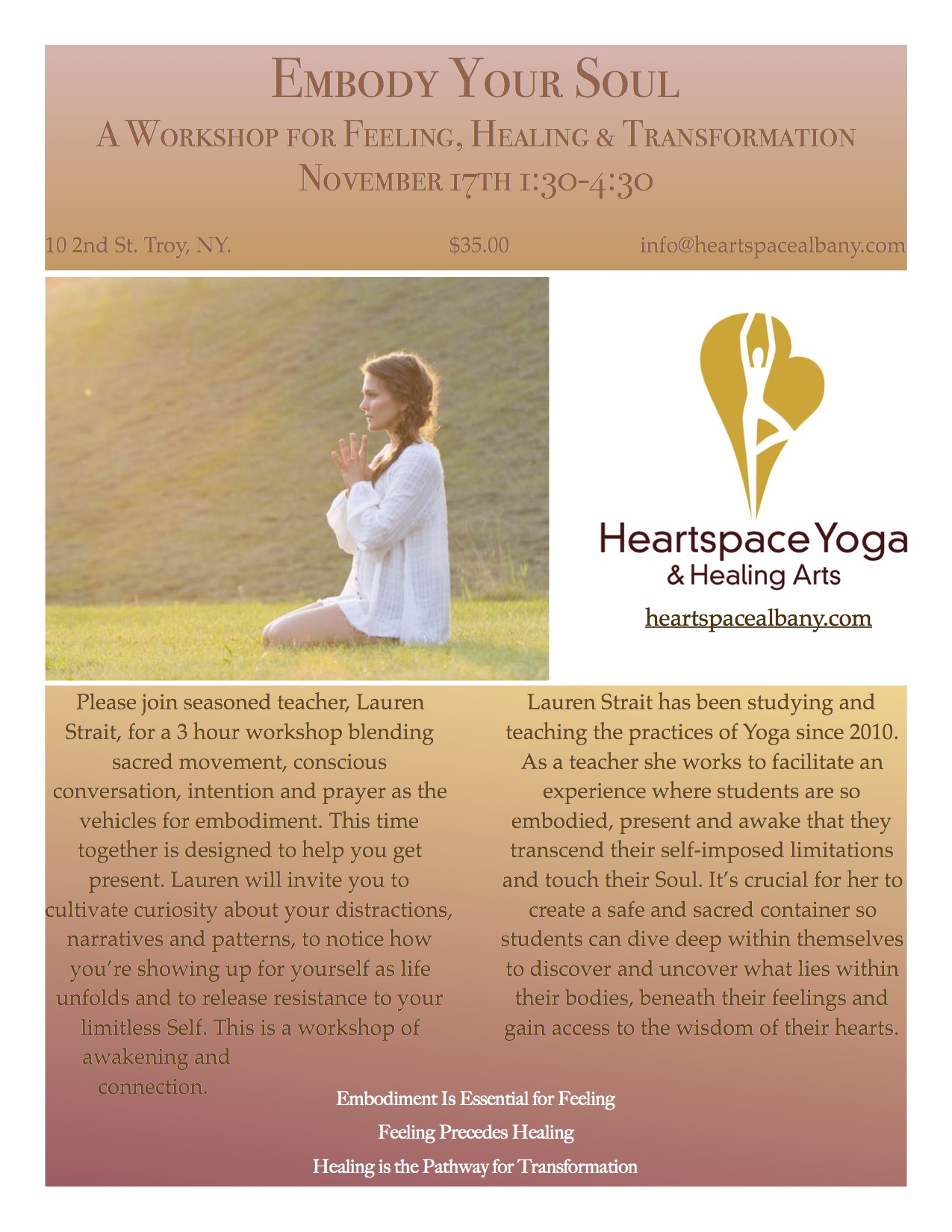 Embody Your Soul with Lauren Strait. Saturday November 17, 1:30 - 4:30PM. Troy Studio. Please join seasoned teacher, Lauren Strait, for this workshop blending sacred movement, conscious conversation, intention and prayer as the vehicles for embodiment. This time together is designed to help you get present. Lauren will invite you to cultivate curiosity about your distractions, narratives and patterns, to notice how you're showing up for yourself as life unfolds and to release resistance to your limitless Self. This is a workshop of awakening and connection. Cost $35.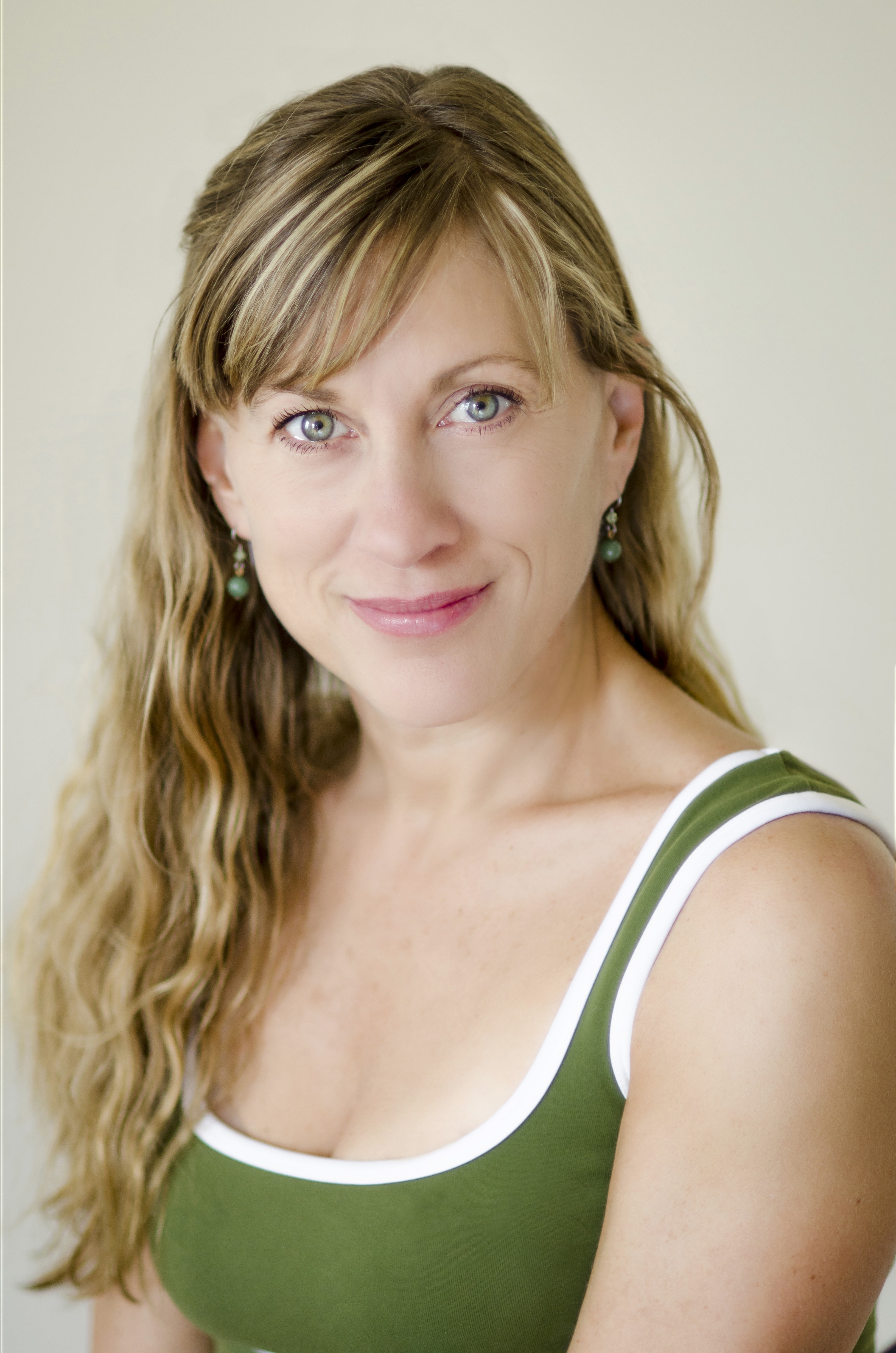 Master Classes with Lauren Toolin.
Upcoming: Saturday November 17: Inner Waves: An Exploration of Prana Vayu, The Systemic ways our Life Force Moves. 9 - 11AM. Albany Studio.
Lauren presents these monthly opportunities to dive deep in your yoga practice. These master classes are offered in conjunction with her 200 Hour Yoga Teacher Training program so these workshops are an amazing way to delve into the rich history, philosophy, and science of hatha yoga. Click here to register and for the remaining workshop schedule in 2018 and in 2019. Cost per workshop is $30. Be sure to preregister as spaces are limited due to the integration with her YTT program.
Prenatal Yoga - Four Week Series. Sundays 12 - 1:15pm at our Albany Studio. Instructor Melissa Hurt. Cost: $75 for the series. Click here for info or to sign up for any of these series. Series Dates:
November 18 - December 9, 2018
January 20 - February 10, 2019.
March 24 - April 14, 2019
Yoga for Ample Bodies: A Four-Week Series. Saturdays 11:45AM - 1PM Dec 1 - Dec 22 at our Albany Studio. Instructor Nadia El-Fawal. $60 for the series. Questions, contact us at info@heartspacealbany.com.
Please visit our workshop/series page for these and other up-to- date listings. Be sure to make sure which studio, day and time they're held. See some of them listed below.
Log in or Set Up an Account? Click here.